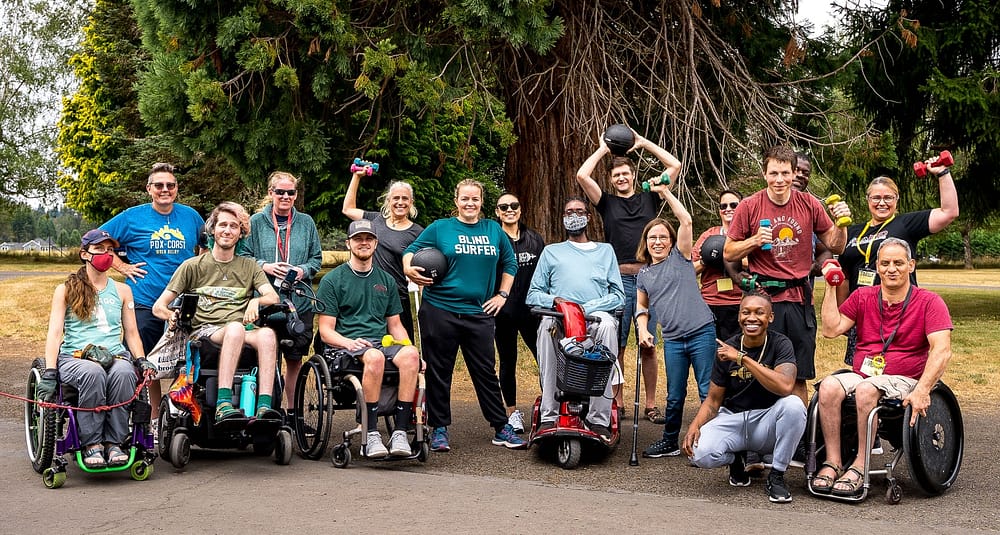 Our mission is to support adults and Veterans with disabilities to accept, embrace, and thrive in their lives through intentional adaptive recreation programming that encompasses support in the areas of social, emotional, and physical wellbeing.
Our Vision: We build inclusive spaces that empower individuals on a rehabilitation journey to accept, embrace, and thrive!
Values:
Equity: We welcome lived-experiences in order to leverage diversity in thought and action.
Integrity: We uphold honesty, transparency, and accountability.
Empowerment: We engage in ways that uplift and strengthen marginalized voices.
Healing: We understand that every person's story is more than a tragedy and acknowledge the healing process is different for everyone. We utilize a strengths-based approach to healing and the important role safe communities play in the journey to accept, embrace, and thrive.
Celebrate: We celebrate wins, elevate play, have a growth mindset and prioritize teambuilding.
Respect: We have the deepest respect for one another's talents andshortcomings; we learn from and teach each other
How RAPID Began
RAPID was founded by Emily Purry in 2019. Diagnosed with Stargardt disease as a child, Emily has been legally blind since birth. Throughout childhood and into college, she maintained an active lifestyle by participating in sports, weight lifting, boxing, and working as a personal trainer. In 2009, while training for a marathon along the Portland waterfront, Emily fell into an unmarked maintenance hole. Emily's life drastically changed in mere seconds as a result of the accident. The injuries to her right leg included a torn MCL, PCL, meniscus and a chipped femur.
This accident, in combination with her visual impairment, was a barrier Emily never imagined having to overcome and therefore, she wasn't prepared with suitable coping strategies. Doctors placed Emily on high doses of pain medication for temporary relief and sent her home with crutches and a referral for physical therapy; little did she know this was just the beginning of her trauma. Over a period of four years and five surgeries later, Emily struggled to live independently while accessing doctors appointments, navigating mass transportation, and establishing a career around her co-existing physical disabilities. Her body went from a high performing athlete to a pile of painful mush. From a confident, independent woman to an angry, depressed, insecure, shell of who she once was.
Eventually, Emily began to ask herself, "Why wasn't there a place she could go to live, heal and get the support she needed while being surrounded by people who understood these unique health and wellness barriers?" Emily decided that if such a place was going to exist, she was going to be the person to create it.
RAPID offers a unique service because we bridge the gap between medical services and acclimating to life's challenges. One of our participants, Joanne so eloquently stated, "We live in a world that is not designed for people with disabilities and we are fighting for our lives on a daily basis.To highlight wellness, cross-disability, and positivity is unusual for our community. RAPID encourages intersectionality by striving to bring diverse groups together."
Get the treatment you deserve! Contact RAPID today and take advantage of our inclusive health and rehabilitation services.