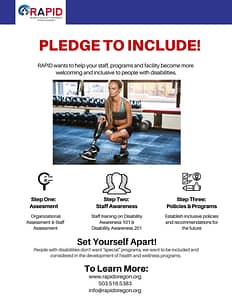 As we build the RAPID all-inclusive facility, it is still our passion to help current facilities become inclusive for people with disabilities. People with disabilities do not want "their own" place to work out, they want a facility that includes them in the beginning of the programming and physical design process. They want to be included.
We need a facility that does not place barriers on people with disabilities who are trying to use it. This requires that the staff running recreational facilities must be trained to be welcoming and educated. This way when staff members interact with people with disabilities, the resulting experience is not awkward, uncomfortable or bad for either party involved.
Thankfully, RAPID is here to help! Our company offers physical space evaluation, program assessment, policy review and staff trainings to any recreational facility seeking to improve inclusivity and accessibility. We want everyone to be able to enjoy your amazing services while remaining safe and properly supported. Contact RAPID today to schedule a consultation for your facility!
Click here to download the "Pledge to Include" flyer in PDF format.